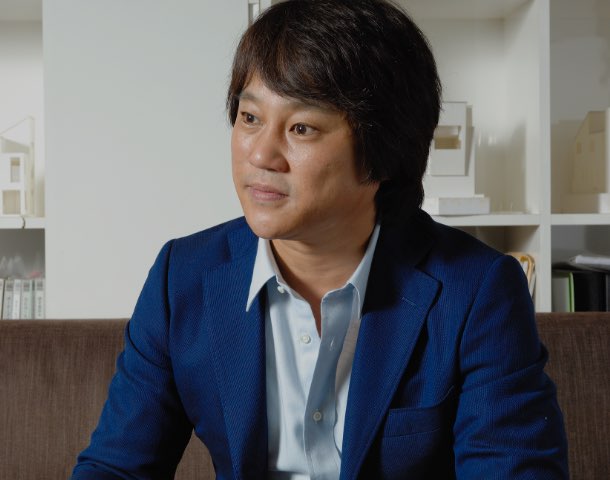 CEO Message
What is the Presidential House plan for the wealthy,
a building that costs at least ¥100 million?
Consistent support from land search to building completion.You'll have a house that's the only one of its kind in the world.
People build houses as proof of their success. In Japan, though, some say they can't find the ideal housemaker. They want to avoid the standardized designs of the big housing companies, but commissioning a well-known architect results in a house that is the architect's creation, and they find it hard to have their own intentions and tastes reflected in it. The Presidential House plan was launched in response to these sentiments.
Kanetsuku: "Since our founding, Freedom has always taken the approach of 'housebuilding where the client takes the lead role.' Freedom will give our all to realize our customers' particular needs and ideals minutely, as long as they pose no legal difficulties. That's why the result will not be standardized, not an architectural creation, but instead a house that's the only one of its kind in the world. Our sustained approach to building homes this way has attracted an increasing number of requests from wealthy people with high social status and money to spare. That is why we launched the Presidential House brand, which specializes in homes priced at 100 million yen or more.
The name "Presidential" was chosen to convey a clear image to customers, but you can use Presidential House even if you aren't the president of a company. In fact, in addition to company executives, requests from successful businesspeople and artists are coming in rapid succession. Why is Presidential House so popular?
Kanetsuku: "Freedom takes on the entire housebuilding process, from the land search to the finished building. We can prevent a situation where a real estate agent recommends land that is purchased, but then the ideal building can't be built. We also help our customers select furniture through collaborations with interior designers from around the world. We create spaces with a sense of unity by integrating home location, building design, and interior design.
The VR system simulates the completed home. Housebuilding moves forward with the client and the architect sharing the same vision.
Freedom was also one of the first design firms to introduce a virtual reality (VR) system. When a customer puts on the head-mounted display, a 3D space created based on the design drawing unfolds before their eyes.
Kanetsuku: "The basis of housebuilding is the design drawing, but not many clients can look at a design drawing and visualize the actual space in their minds. Due to this, housebuilding to has proceeded under the architect's leadership. However, by using VR, the customer also can have an image of the completed house and virtually experience the actual comfort of living in it. This makes it easier to make a request such as, 'I want the kitchen to be larger,' and should enliven conversations with the architect and add more fun to the housebuilding process."
We are responding higher demand in Japan by applying the expertise gained through the Presidential House brand to the building of vacation homes.
Freedom has released Presidential Villa as a new brand to follow Presidential House. What are the aims of this new brand?
Kanetsuku: "The worldwide COVID-19 pandemic has made it difficult to own a vacation home abroad. Due in part to this, more and more customers are looking for vacation homes in Japan instead of overseas. Nearby areas that can be accessed safely and securely are especially popular these days. For example, a lot of our Tokyo customers prefer Shonan or Hayama, which are easily accessible by car and are good for weekends and other short stays."
How does it differ from Presidential House?
Kanetsuku: "The housebuilding flow is the same as Presidential House. However, customers ask for more playful designs and resort-like features than they have in their current homes. They want things like a 24/7 ocean view, or a large outdoor space where the whole family can barbecue together. We want to let everyone who is thinking about building a home know that their dreams can absolutely come true. It's a big purchase, and we never want anyone to compromise. Freedom will continue to do everything we can to make those dreams a reality."